Ethical and Eco-Friendly Products Part I: Household Items
I may earn a small commission if you purchase through my links. Learn more.
In a world of single-use plastics and a wasteful mindset, it's too easy to forget to take care of the planet we live on. And that needs to change. Even if we start small, reducing our waste and picking companies that care about how their products are made is important. Are you trying to make changes in your day-to-day routine that will give back to our planet? Then this series is for you.
Part I of the Ethical and Eco-Friendly Products Series focuses on your home and the everyday products you use. Here are five different items you can use to be a little bit more green.
Compostable or Biodegradable Trash Bags
Unni makes 100% compostable trash bags. The company has been awarded a US Biodegradable Products Institute certification for their trash bags. The bags are made from plants, are BPA-free, and will help "make earth a better place."
I've been using these bags for a few months. They're far from perfect, but I love that they're made out of plants.
What I Like:
Bags are made from plants
What I Don't Like:
No good way to tie the bags

Bags leak if left too long

Bags rip easily
I think the idea is great, but after trying them out for three months, I'm ready for a change. These biodegradable trash bags look like a better option, and I'm planning on trying them out next. They're bigger, which means they'll be easier to tie. The description also says they're leak-proof and tear-resistant.
Natural Household Cleaning Products
Puracy provides made in the USA cleaners for your home. They offer a variety of products like natural laundry detergent, carpet and upholstery shampoo, dish soap, and more.
This company is committed to making natural cleaners, stating their definition of a natural ingredient as:
"it started from a natural, renewable source found in nature with absolutely no petroleum compounds."
Puracy lists all of its ingredients on their site, out in the open, and perfectly transparent. As far as packaging goes, all their bottles, pumps, sprayers, and caps are 100% recyclable. The company also supports local artists by featuring hand-drawn designs on their labels.
Pro Tip: Instead of buying dish soap and hand soap separately, I bought a reusable foaming soap dispenser (like this one), mix some dish soap (or Castile soap) with water, and bam! I don't have to pay for overpriced hand soap, and I use less plastic.
Reusable Towels
No more paper towels piling up in your trash can—or in landfills. It's time to find something else, like reusable bamboo towels. You can throw these towels in the washer, and they'll become softer and more absorbent every time you do so!
Not only are they reusable, but they're also made out of bamboo — a highly sustainable resource. My favorite reusable towels are the Barefoot Bamboo ones, but they sell out quickly on Amazon. These ones are a good alternative.
Regardless, I use and recommend these towels 100%. I don't use paper towels at all anymore.
What I Like:
Reusable

Soft and absorbent

Cost-effective
What I Don't Like:
Creates a storage issue (I solved this by storing the off-the-roll towels in an old tissue box.)
Bamboo Sheets
Cariloha has created super soft bamboo bed sheets. According to their website, bamboo self-replenishes naturally without the need for pesticides or fertilizer. Once processed, it's softer, cooler, and just better than cotton. It's the perfect thing to wrap yourself up in after a long day, especially since it's sustainable.
As the company states on their website, "Bamboo is an extremely renewable source. Our materials are harvested and manufactured very carefully, so we can produce high-quality sheets in an environmentally sustainable way."
Want a cheaper option? I bought these ones.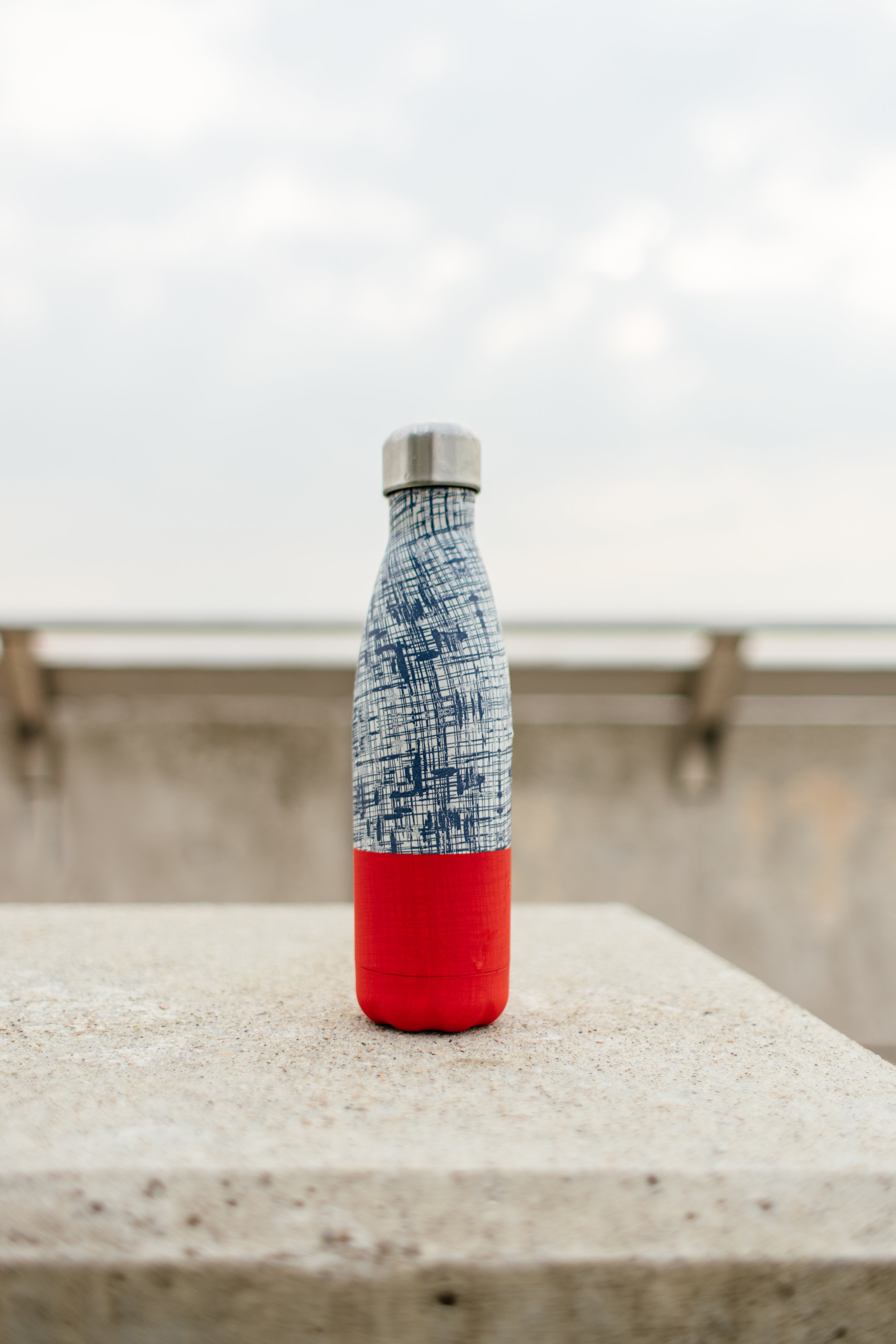 Reusable Water Bottle
S'well's founder, Sarah Kauss, is on a mission: to rid the world of plastic bottles: "I believed that if we made a crave-worthy bottle that combined fashion with function, people would stop buying disposable bottles and we could reduce single-use plastic consumption worldwide."
The Bottle: BPA-free. Triple-walled stainless steel (with a copper layer!). Leak-free top.
S'well claims their bottles will keep liquids cold for 24 hours, and hot for 12 hours. There are eight different sizes, and plenty of beautiful designs. You can even get your bottle personalized with your name!
Shop S'Well Bottles on Amazon here.
(Buy my bottle here.)
Reusable Plastic Baggies
If you pack your lunch every day or use plastic baggies to store food, consider investing in reusable plastic bags. Not only will this save you money, but it'll also reduce the amount of plastic you waste. I've been using them for a few months, and I love them.
What I Like:
Cost-effective

Thick and durable

Seal well
What I Don't Like:
Hassle of cleaning

Hard to fully dry them
I'm using these flatlay sandwich bags by rezip, but you can get a pack of different sizes or even stand-up bags. Bonus: they come in super cute colors.
Buy It Once
I'm linking to a site called Buy Me Once. This site is worth checking out. Buy Me Once focuses on high-quality products that you'll—wait for it—only have to buy once. The site offers plenty of ethically-made products, from storage containers to hammers to furniture.
And that's all I have for now! Please check out these products. Together, our small actions can make a difference.
Check out Part II and Part III, covering environmentally-friendly self-care products and ethical fashion.