Easy + Simple DIY Lavender Sugar Scrub
Does anyone else love love love lavender, or is it just me? I was SO excited when I got myself some lavender essential oil. And the first thing I did with it? Made a lavender sugar scrub.
I love sugar scrubs. To be perfectly honest, these days, who doesn't? Sugar scrubs make your hands soft, you get the various benefits of whatever essential oils you get, and they're fun (and easy) to make.
You can literally make this simple lavender scrub recipe in under five minutes. I love using it on my hands, but lately I've been using sugar scrubs in the shower. Especially with lavender, it's great for aromatherapy and for absorbing topically (especially through hands and feet) for relaxation + destressing.
Disclosure: I may earn a commission if you purchase through my affiliate links. Read my full disclosure here.
Lavender Essential Oil Benefits
Lavender oil has multiple traits that can help you, mainly having to do with relaxation. It can:
Help soothe your mood

Help with a good night's sleep

Help purify skin

Help with anxiety
Read more about the benefits of lavender essential oil here.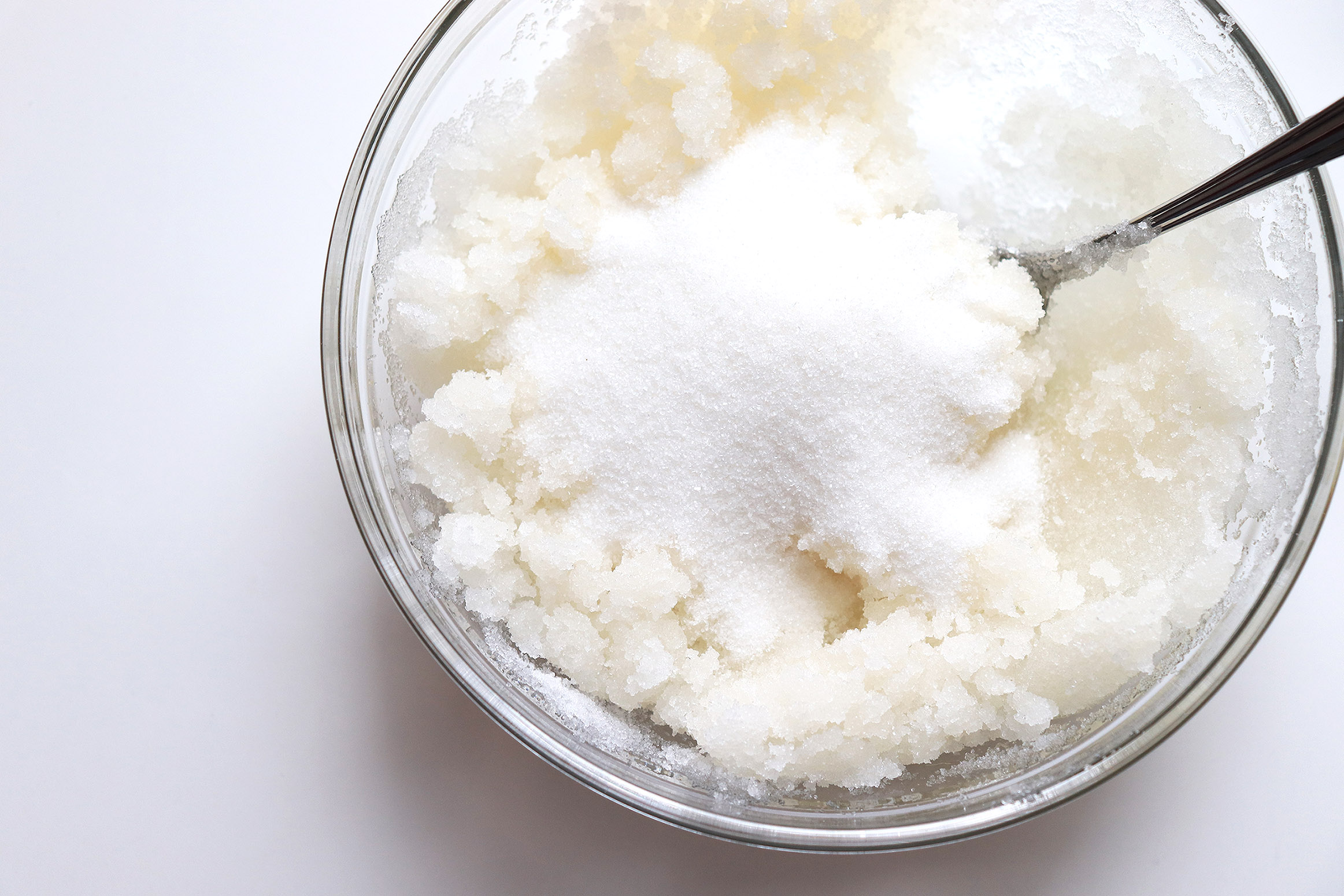 Making this lavender sugar scrub made me super happy, not only because of the amazing smell, but also because of this pretty purple color I got. More on that down below.
DIY Lavender Sugar Scrub Ingredients:
Simple Lavender Sugar Scrub Instructions:
Fully melt the coconut oil (I find that the sugar absorbs it better this way)

Stir in the sugar. Make sure you mix it well.

Add the lavender essential oil + food coloring. (I used 2 drops of red and 1.5 drops of blue.) Mix this super well.

Store in an air-tight container.
Why I use Rocky Mountain Oils
I use Rocky Mountain Oils (the company linked to in the recipes) because of their purity tests + sustainability + partnerships with small farms, along with their affordability. You can read about their SAAFE Promise here. You can read my review of Rocky Mountain Oils by clicking here.
Do you love lavender essential oil? Let me know why in the comments. If you love or want to try this recipe, give it a pin on Pinterest (images below) or share on social media. It'll mean a lot to me!