Blogging: When to Use Stock Photos + When to Use Your Own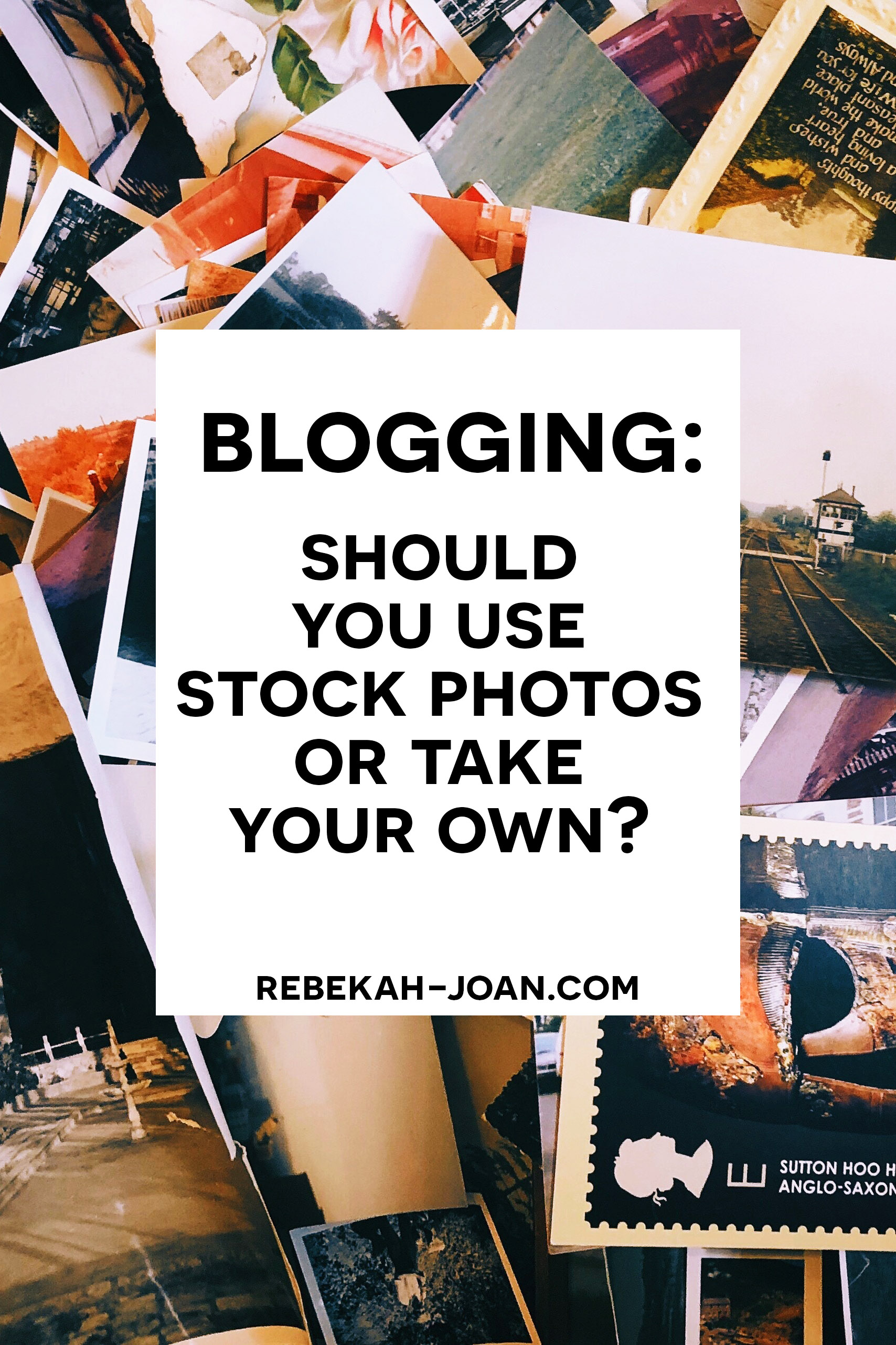 You've heard of bloggers using stock photos, and while you're having trouble keeping up with taking your own pictures, you're wondering if you could get away with it. This post addresses when you should and shouldn't use stock photos.
There's so much that goes into blogging, and taking pictures (and editing them) can be time consuming. When I first started using stock photos on my blog, I felt guilty and inauthentic. I'd gone almost four years without touching stock photo sites, and I felt like I was betraying my readers by using them. But I didn't have the time to take pictures that would fit in well with the subjects I was writing about.
That's when I started using Unsplash. There are gazillions of free stock sites out there, but this one? It blows them all away. And most of the time, I'm able to find a picture that will fit in well with my writing.
But even if you find a picture that works well for your post, how do you know when you should take the time to create your own photos?
I've been thinking about this for a few months, and I've given myself a few loose guidelines.
Travel Post Photos
Whether you're a full-blown travel blogger or a lifestyle blogger who occasionally posts about her travels, use your own photos. Your followers want to read about and see your experience, your thoughts, your pictures. Using stock photos for this type of post will actually make you look fake.
The only exception to this is your cover photo. While it's best to use one you took (especially if it has you in it), sometimes you just don't manage to get one that's good enough. My Adventures in Chicago post contains only photos I took with the exception of the cover photo. I didn't manage to take a picture that would really draw people in, so I found one on Unsplash that I liked.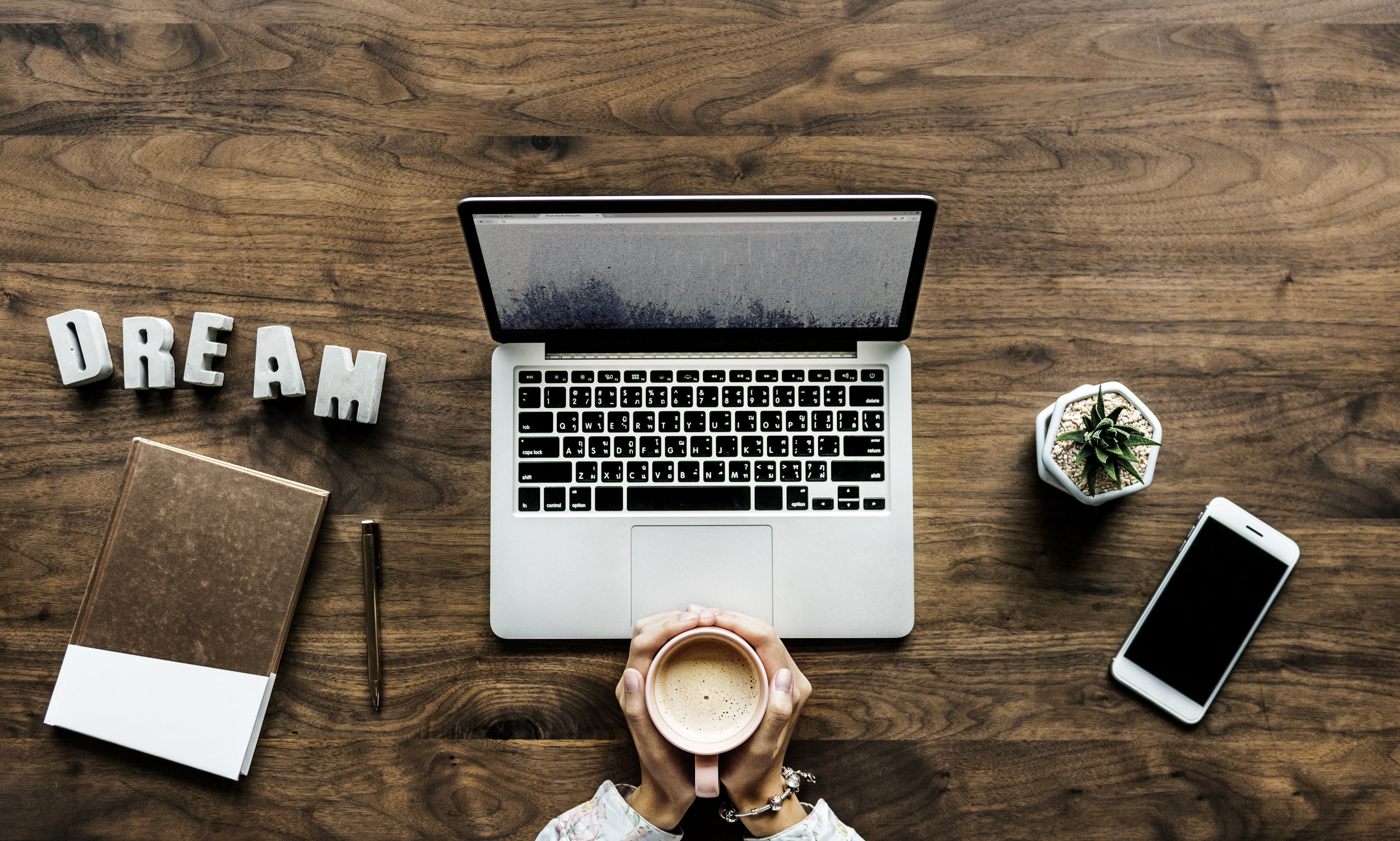 Flatlays/Workspace Photos
Flatlays. For a long time, they were the bane of my existence. No matter how I tried, my flatlays looked amateurish and ugly. It was so frustrating. Over time, my skills have improved, but it was rough in that in-between stage (especially since I wasn't using stock photo sites at all at that point).
I'd say that flatlay images are okay to get from stock image sites as long as it fits your style. And Unsplash has loads, so you're sure to find what you need. You'll find tons with extra blank space, making them usable as cover photos, or ones that fill the frame that you can add to the text of your post.
While taking your own photos adds a more personalized feel to your site, sometimes stock photos aren't a bad option.
Recipe Photos
I'd think this one would be pretty obvious. If you're doing a recipe post, take your own photos. I know that everyone isn't great behind the camera, and you might struggle to get a nice shot of the final product. But the more you let your creativity out, the better. There are a couple things that help for recipe posts, like:
Taking pictures of the raw ingredients

Using an aesthetically-pleasing surface, like butcher block or lightly-colored counters.

Adding things such as dishes and silverware, pretty napkins or towels, and a few raw ingredients around the final product.
General Post Photos
Tips and tricks, your opinions, advice . . . those types of posts. You're not mentioning anything in specific. Maybe you're talking about your thoughts, or you're talking about a new routine you're creating for yourself.
As I said above, the more pictures you manage to take, the more personalized your site will feel. But for posts like this, stock photos will do. I would suggest avoiding posed photos and staying away from photos with people's faces in them. That's just weird. Lifestyle blogs don't need pictures of random people—they're more personal than that.
Can I Mix Stock Photos with My Own?
Heck yes. I like making sure that all the photos in one post have the same "feel" to them, but if you can achieve that, go for it. In this post, I do just that. Only one of those pictures are mine, and it's of me (thanks to my sister for taking it). The rest are stock photos from Unsplash.
You could consider that post a travel post, but I don't. It's not about my trip to Chicago. It's about what that trip taught me. So the use of in-theme stock photos with my own blends well.
Is Paying for Stock Photos Worth It?
Heck yes, but not too often. Here's the issue with free stock photos: everyone uses them. So if you pay for stock photos, your posts will feel more unique—because they will be. Less people use paid stock photos, which means there's less of a chance that a reader will have seen your photo somewhere else before.
Not sure where to shop for stock photos? I provide reasonably priced stock photos in my shop.
Bottom Line: The more specific it is to you and your life, the more you should steer clear from stock photos and use your own. It might take a while for you to get composition + staging down, but it'll be fun and worth it in the long run.