Pinterest Boards to Follow for Sustainable Brands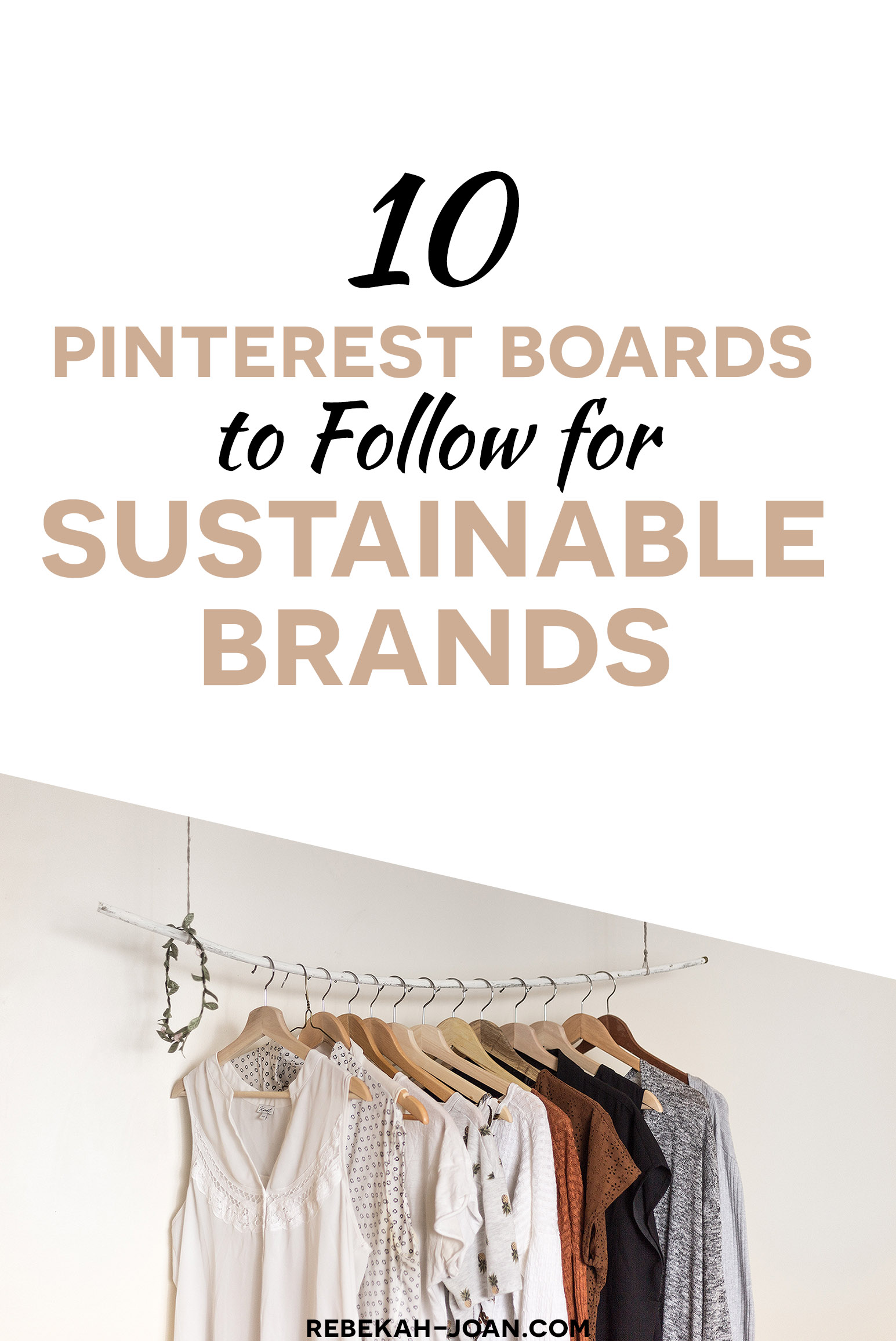 There are lots of brands out there, but which ones are best for the environment? To help you along your sustainable, eco-friendly, or zero waste journey, here are 10 Pinterest boards to help you discover ethical + sustainable brands.
Disclosure: This post contains affiliate links, meaning that at no extra cost to you, I may earn a small commission if you purchase through my links. All opinions are fully mine. Read my full disclosure here.
If you're like me, you're just starting out on your journey toward a sustainable lifestyle. Maybe you're even ready to take the ultimate step and go zero waste. Either way, I've found 10 Pinterest boards that encourage sustainable life in the home, while traveling, and while shopping — plus more! They'll provide awesome advice, DIYs, and suggest brands that are sustainable + eco-friendly.
General:
Beginner Zero Waste Resources by Green Indy Blog
"A treasure-trove of resources for beginning zero wasters. Learn how to get started on your zero waste journey here!" Follow board. // Follow Green Indy Blog.
.LOVE THE PLANET. by Rebekah Joan (me)
"Eliminating waste from our lifestyles, supporting sustainable companies, and keeping our habits green and eco-friendly. Let's keep our planet clean and beautiful!" Follow board. // Follow Rebekah Joan (<—- me).
Sustainable Shopping by Vaidehi Deo
"List of online websites with sustainable, non-toxic, ethical, biodegradable, environment friendly, recycled or handmade products." Follow board. // Follow Vaidehi Deo.
Home:
Zero Waste Bathroom & Beauty by The Zero Waste Collective
This board is full of DIYs + products like zero waste sunscreen, reusable cotton makeup removers, and much more. Follow board. // Follow Zero Waste Collective.
Zero Waste Kitchen by Litterless
"Ideas and spaces for getting closer to a zero waste kitchen, with reusable cloth bags, bulk pantry goods, and jar storage options." Follow board. // Follow Litterless.
Zero Waste and Healthy Home by Hello Glow Blog
This is a group board with Hello Nest. Find tips for zero waste grocery shopping, recycling better, and keep up with new eco-friendly products. Follow board. // Follow Hello Glow Blog. // Follow Hello Nest.
Fashion:
Sustainable Fashion by Kimberly Button | Get Green Be Well
"Sustainable fashion that's eco friendly. Ethical fashion. Fair trade fashion. Organic clothing. Ecofashion. Upcycling clothes. Sustainable fashion brands. Women's fashion. Affordable fashion. Casual outfits. Fashion ideas. Zero Waste. Runway inspiration. Natural materials." Follow board. // Follow Get Green Be Well.
Sustainable Brands by Global Garbs
All about sustainable fashion, this board has lots of articles on ethical and eco-friendly brands that you can wear. Follow board. // Follow Global Garbs.
Travel:
Travel || Sustainable Travel by AbbieCadabi
"Whether you're out for the day or off on an adventure, here's how to avoid plastic and other waste on your way." Follow board. // Follow AbbieCadabi.
Travel / Zero Waste by Kathryn Kellog
"Zero waste traveling tips with zero waste packing guides, toiletry recommendations, and check lists." Follow board. // Follow Kathryn Kellog.
A Few Ethical + Sustainable Brands:
Naja - an eco-conscious lingerie brand that supports single women/mothers. Learn more here.
Puravida Bracelets - 650+ artisans depend on this company for a steady income. Puravida Bracelets also contributes to multiple eco-friendly charities like Enviro-Causes, Animal Awareness, and Women's Causes. Learn more here.
BuyMeOnce - a website full of products you'll only need to buy once, thus eliminating your waste. Learn more here.
How have you started living a more sustainable life? Let me know in the comments below! <3