Benefits of Frankincense Essential Oil + How I Use Frankincense
This is a sponsored post by Rocky Mountain Oils, meaning I received free product as compensation for this post. I'll also earn a small commission if you purchase through my links. Read my full disclosure here.
Frankincense essential oil is a wonder oil.
What do I mean by that, you ask?
Let me explain.
I recently started using frankincense essential oil, and upon my research, I discovered that this is the perfect oil for me. It's like someone took a look at my problems, made an oil just for me, and then put it into a convenient roller bottle.
Not only is frankincense a wonder oil for my problems, it can also help with skin care, hair growth, possibly with cancer, eczema, and for treating ingrown hairs. Frankincense has a sweet + woodsy scent, and honestly I've used it as a perfume a couple times.
But what else do I use it for?
Frankincense Essential Oil for Immune Support
Frankincense essential oil works by multiplying white blood cells, so obviously that's a huge help to your immune system. It can also work as an anti-inflammatory. So heck yeah, I'll take anything to help me prevent/end a pesky cold.
Frankincense for Hair Growth
Ever since I was young, I've had an anxiety disorder called trichotillomania. Basically, it means I pull out my hair when I'm stressed. Not only can frankincense essential oil be used as a stress reliever (more on that later), but it also helps to soothe hair follicles. This doesn't help with the hair pulling, but it can help with stimulating faster hair growth. Using frankincense for hair growth has been a huge blessing for me.
There are two main ways people use frankincense in their hair:
First, some people will add their frankincense oil with castor oil. Castor oil is known to promote hair growth and prevent hair loss, and the same is true of frankincense. On top of extra oomph, frankincense essential oil will also make the castor oil smell better.
Second, if you want to skip the castor oil, apply (diluted) frankincense essential oil to your scalp. It'll smell good and be less greasy. If you want to try using frankincense for hair growth, I'd recommend getting it in this roller bottle. I love it so much because:
It's only $19.99

It's high-quality, 100% pure oil

It'll last you a decent amount of time

It keeps applying the oil to your scalp mess-free

It's already diluted for topical use

It'll start soothing hair follicles to promote hair growth quickly
Curious? Grab your bottle below.
If you want to use castor oil and frankincense for hair growth, I'd recommend using this blend of frankincense and fractionated coconut oil. Frankincense is expensive, and this is a cheaper way to get diluted, inexpensive frankincense essential oil. Regardless, I think frankincense is a great essential oil for trichotillomania and hair growth.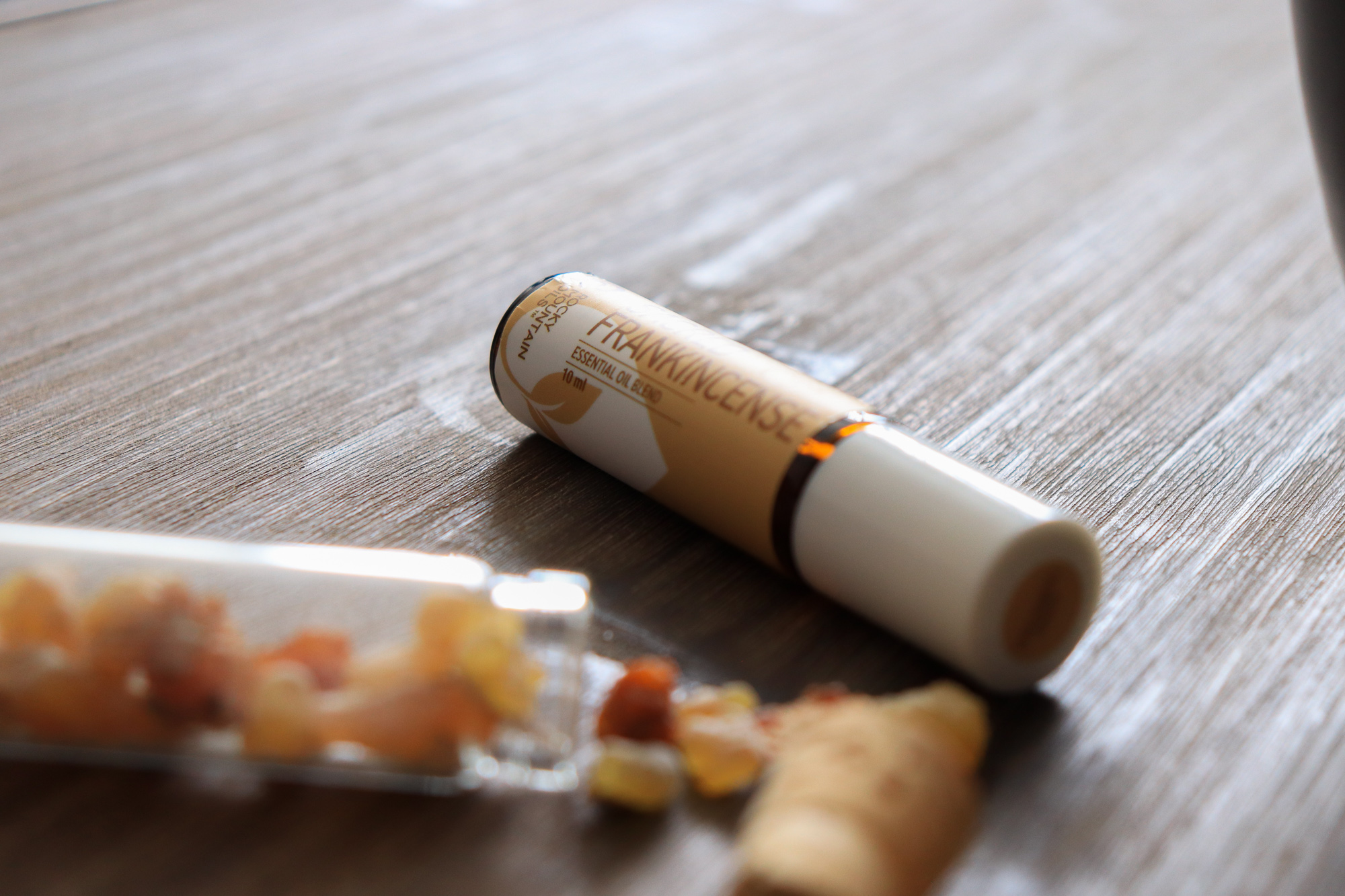 Frankincense for Relaxation
Just like lavender essential oil, frankincense can help to promote a sense of relaxation. Especially since it works to ease stress, your chances of a better night's sleep are higher as well. I like using frankincense or lavender to help me calm down after a day of work, so this is a great oil to add to your evening routine.
Frankincense Helps Treat PMS
Ladies, we all know that the effects of PMS are miserable. Frankincense is great for periods for two main reasons:
Frankincense eases the pain of cramps

Frankincense promotes a sense of calm + relaxation
I'm down for anything to help get rid of cramps, and considering that frankincense is also emotionally-balancing, it's a great oil to use on your period.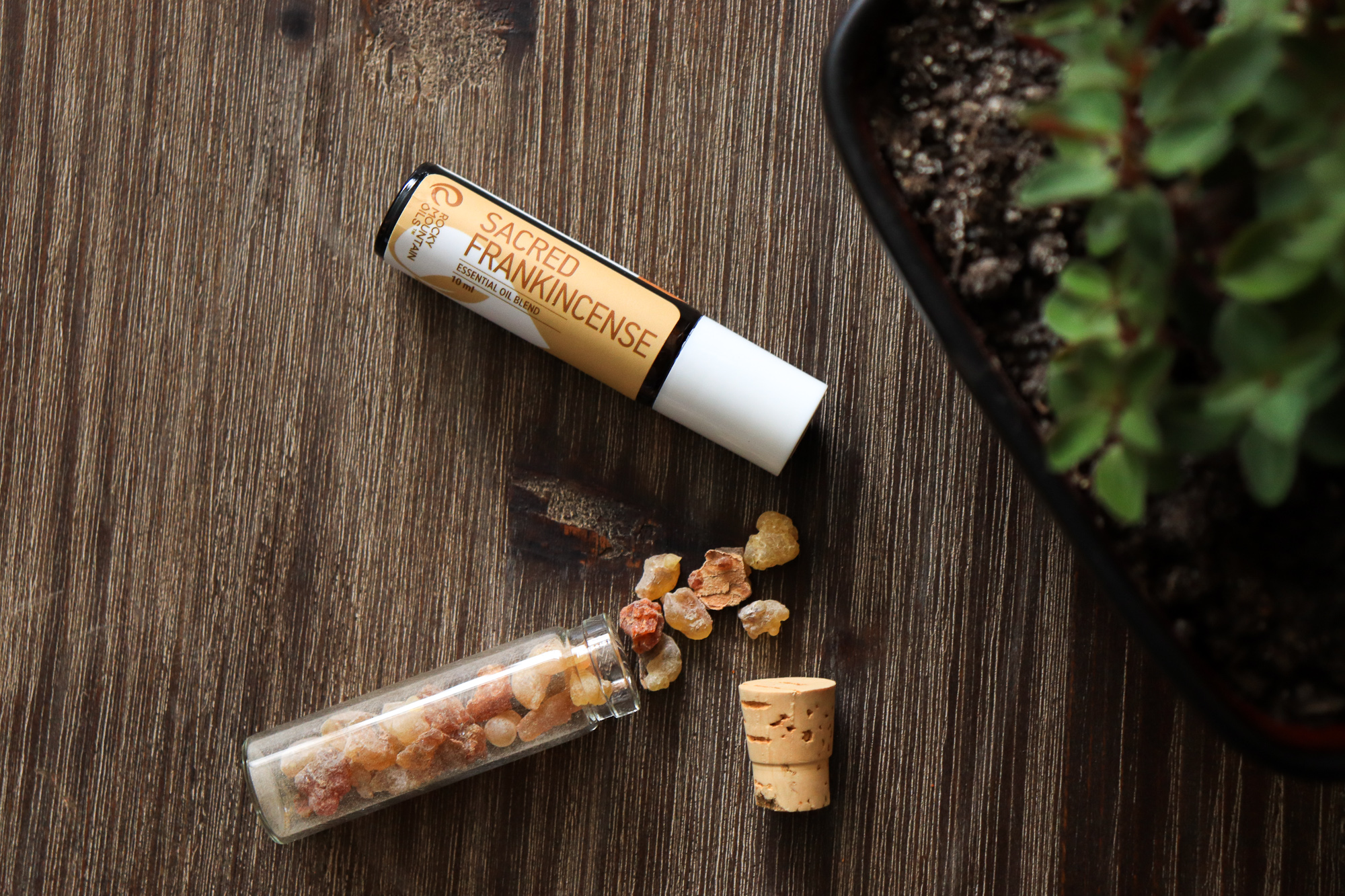 Frankincense for Anxiety
As mentioned multiple times above, frankincense can help ease stress. For Miss Anxiety over here, the thought of giving my heart a break from constant worry sounds pretty appealing. Recently, my stress levels have spiked, and I'm trying to find ways to bring them back down. Essential oils have helped, and I'm planning on trying more methods soon.
Pro Tip: try diffusing both lavender and frankincense for anxiety.
Healing Scars with Frankincense Essential Oil
Last but not least, frankincense essential oil can be used to heal scars! For some strange reason, I have stretch marks all around my hips. I grew really fast as a kid, and that's the only reason I can think of for having stretch marks. I've been trying to remember to roll frankincense oil on them to see if it helps. As one would imagine, this process will probably take a while, so I don't have any results there yet.
If you're interested in frankincense essential oil, I would recommend the Sacred Frankincense roller bottle by Rocky Mountain Oils.
You can also buy it in a normal bottle, but I find the roller to be super convenient. If you're still unsure of where to buy your essential oils from, read my post on why I use Rocky Mountain Oils. They're a fantastic company, offering pure oils at an affordable price.
Do You Use Frankincense Essential Oil?
Let me know in the comments if you have any experience with frankincense oil! I'd love to know your thoughts.