What is Intentional Living + Beginner's Guide to Living Intentionally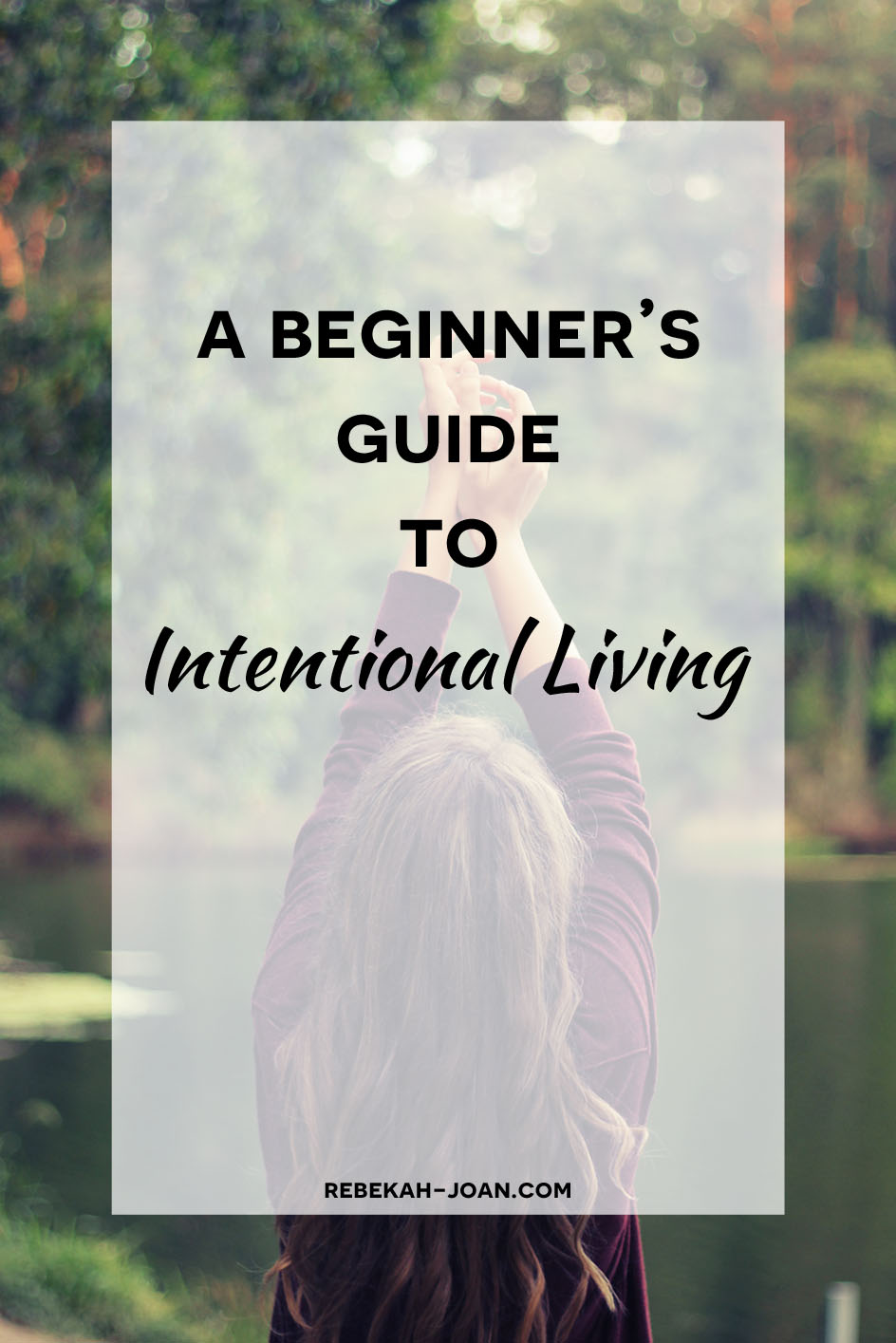 Living with glazed-over, bored eyes and no goals is a terrible way to go through life. So what can you change? Learn how to live intentionally so that you can live a fulfilling life.
If you've been hanging out with me online recently, you probably know that I'm revamping my life to make it more intentional. I don't want to live for the weekend, work just to pay the bills, or have friends who don't know my heart.
That's where intentional living comes in.
But what is living intentionally?
Living a life of intention is a little bit different for everyone. Basically it's when a person/group sits down, evaluates their values + passions, and aligns their life to those principles.
Let's talk about that whole aligning part for a second.
Intentional living isn't a one-time choice. Literally every decision I make should be made intentionally. I should always be searching out my goals, values, and passions. That's the thing about intentional living — it's intentional.
So What Exactly Does Intentional Living Look Like?
It looks like reevaluating friendships + pouring into the ones you care about.
It looks like taking charge of your finances and being responsible.
It looks like setting goals you actually care about and then taking steps to make sure they happen.
It looks like getting yourself into a healthy place mentally + physically.
It looks like changing your entire lifestyle.
But how do you know you're making the right choices? If you want to start living intentionally, what do you base your decisions + actions on?
Well, you have to start at the basics. Like, the very bottom of the basics.
As I said earlier, intentional living is a bit different for everyone. My budget might not work for you. My choice to live a more sustainable lifestyle is something not everyone will jump on board with.
You can't copy my lifestyle, or anyone else's. One could even say that's the opposite of being intentional. Your life is yours, and you need to live a lifestyle that's fit for you. Click to tweet.
So grab a notebook + a pen, sit down, and write out your core values.
Not sure what those are? That's okay. Just be warned, intentional living requires a lot of deep thinking (especially when discovering your values). But if you can make it through that part, you're off to a great start.
Here are a Few Questions to Get Your Brain into Thinking Mode:
How do I view good vs. evil + why?

What am I passionate about + why?

What are my priorities + why?

How attached am I to money + why?

What job are you in + why?

What's your dream job + why?
(Here's a bonus question to go over: how often do you choose instant gratification, even if prolonged gratification will be better in the long run?)
Living for Your Why through Intentional Living
Take a look at your answers to those questions. How do they line up? Is your top priority to travel but you're super attached to money because you're afraid of being poor? Is your dream job to be a higher-up professional because you want the title or because you're passionate about that field?
You have to understand your why.
Think through your answers. For me, being intentional is about living a life based on God telling me what to do. Why? Because my core values are based on God — his words in the Bible and his actions in my life tell me where to go.
God gave me a love for writing (and told me to pursue it), so I quit my job to write. God has given me a huge passion for travel, so my husband and I are going to Europe this fall.
But enough about my intentional living journey and back to yours.
You Need to Have Defined Core Values
If you don't have defined core values, you won't know your why, and you'll end up confused and frustrated. So do this. If you're religious, that's a good place to start. If not, figure them out. To be intentional, you have to know your why.
Reminder: knowing your core values doesn't mean you have to have your entire life figured out. It just means that you know what's most important to you.
So figure out your why so you can set yourself up for making intentional choices every day.
Be Intentional about Your Choices
Okay. Now that you know your why, you can apply that to your life.
Look at the different areas of your life. What are your priorities? What do you need to re-evaluate in your life to be more intentional?
A Few Places to Look at Are:
Your finances — are you an impulse spender? Do you have a budget? If generosity is a priority, are you giving?

Health — are you being intentional in how you treat your body + mind?

Responsibility — how are you treating the environment, your belongings, and those around you?

Relationships — are your relationships healthy or toxic? Are you working on getting to know your friends better every day, or are your relationships superficial?
Hold Yourself Accountable
Again, the intentional life isn't a one-time choice. It's making a choice to work out multiple times a week. It's committing to eating more vegetables. It's finding ways to get rid of your depression. Intentional living is getting a firm grip on your life and turning it into one that you look forward to.
Learning how to be intentional will take time and a ton of effort. So you're going to need to hold yourself accountable. How?
Keep a journal. Record the ups and downs of intentional living.

Before making a decision, always ask yourself, "does this fit into the life I'm trying to live?"

Get yourself an accountability partner. Find a friend who wants to live intentionally, get together with them once or twice a month, and encourage each other in making intentional choices.
Have a Growth Mindset
One of my favorite things about intentional living is that it's a lifestyle that's always changing. We're always learning something new, adding a new opinion to our view of the world, etc. We're always growing.
Because of that, don't be surprised if some of your values change over time. Go with it. Evaluate your new thoughts on life. Question everything. It's how you grow, and it's how you live a better life.
How I'm Being Intentional with My Life
As I've said above a couple times, you can't copy someone else's life. It's not healthy. But learning from examples can get you far — so I'm going to share with you how I live intentionally.
With My Health
This comes across in many different ways. My husband is the healthiest person I know — he works out all the time, tries to eat well, and loves taking care of his body. I'm following along in his footsteps by being healthier throughout my day as a freelance writer. I'm also using essential oils to improve my mental health and boost my immune system.
By Taking Care of the Environment
We've done a pretty great job at taking advantage of the earth. Over the past year, I've realized just how much humans waste, and how excessive it is. In my Ethical + Eco-Friendly Products Series, I recommend my favorite sustainable brands. Together, working intentionally toward a more sustainable lifestyle will help keep our planet healthier.
Through My Relationships
Good friendships aren't easy. You have to open up to people, trust them, and consistently work on keeping them good. But being intentional with friendships means you'll have lifelong friends.
I'm working on this, especially in my marriage. I didn't marry my husband to have a "meh" marriage. We're here for much, much more.
By Living My Best Life
I'm a writer, which is my favorite thing. My husband and I plan to travel more often. I'm slowly opening up to trying new experiences and foods.
Life is full of adventures, and I'm here to live them.
How are you living your life more intentionally? Let me know in the comments!
Sign up to get my free guide, Creating an Intentional Life!
And don't forget to pin/share this post if it was helpful to you! <3