Our Honeymoon - Unique Things to Do in Pittsburgh, Pennsylvania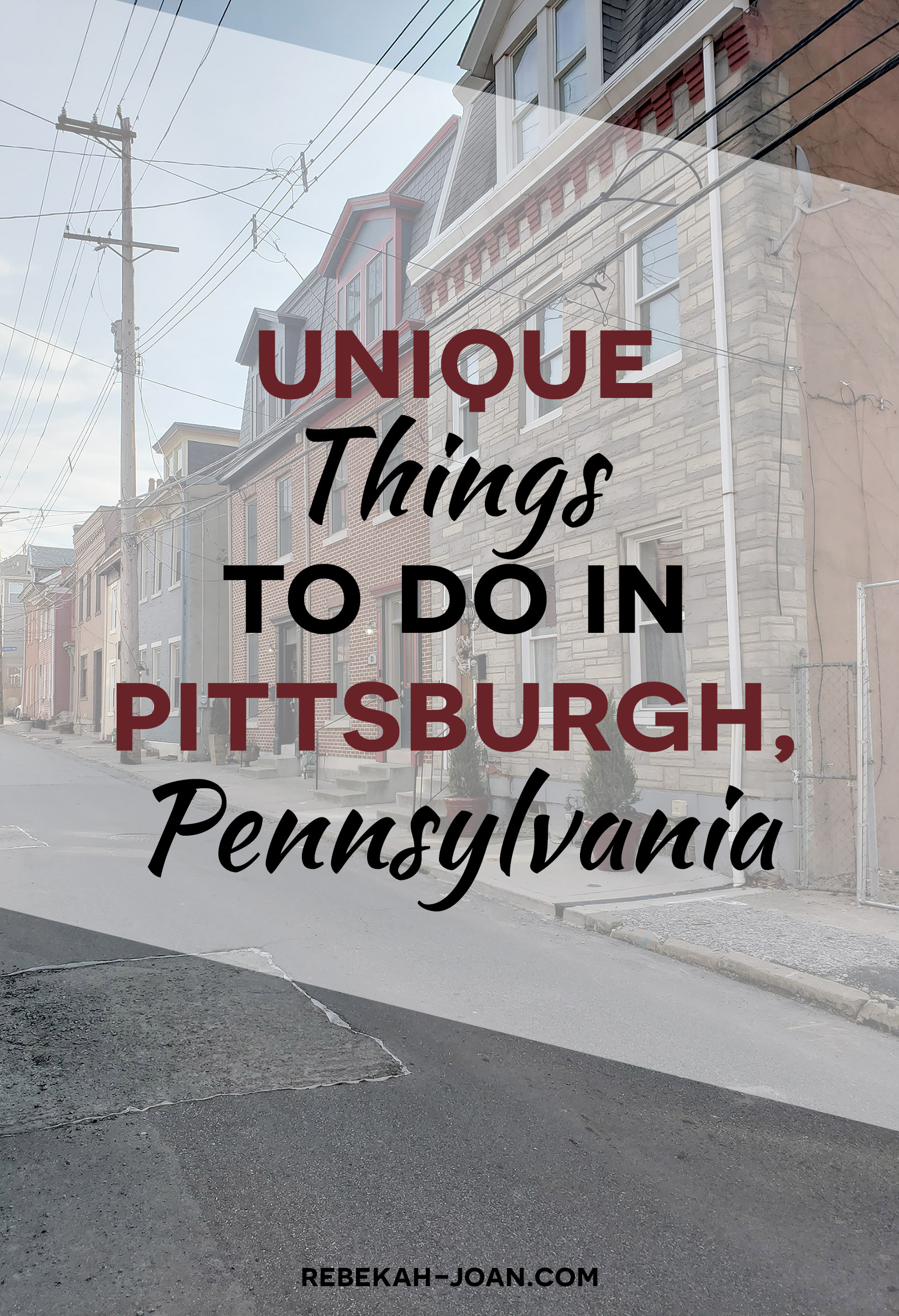 A recap of Jeff's + my honeymoon in Pittsburgh. Consider this your own unique travel guide to Pittsburgh, PA.
We're back from our honeymoon!
We're planning on going to Europe later in the fall, and that's going to be our real honeymoon. But we wanted to get away for a few days, so we decided to go to Pittsburgh. It's close to home, fun to visit, and there was plenty for us to explore.
Our honeymoon ended up being as perfect as our wedding, and I can't wait to share it with you all. I wanted to find some unique places to try out, and we definitely found some. Read on to learn about where to stay + what to do + where to eat in Pittsburgh.
Where to Stay in Pittsburgh, Pennsylvania
Jeff and I stayed at the Priory Hotel, and I couldn't recommend it enough! We weren't sure where to stay, and on a whim we picked the Priory. It was a middle price range — not too expensive, but it sounded nice enough that we thought it would be suitable for our honeymoon. And there's (free!) parking. That was a must for me. Having to find parking stresses me out, so when there's a parking lot involved, I'm a happy camper.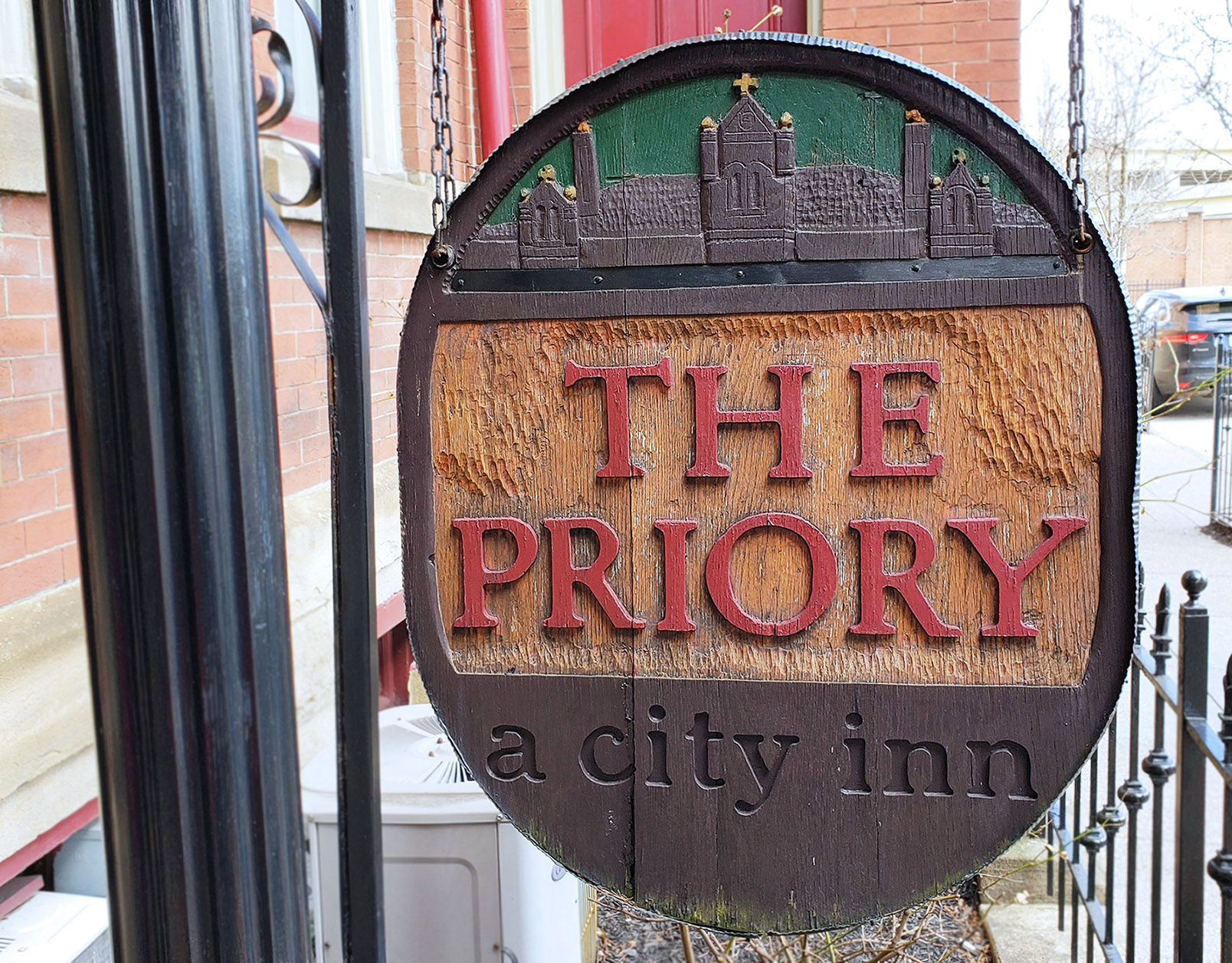 The Priory Hotel
This hotel is gorgeous, located in Pittsburgh's Deutschtown (which is super close to the downtown area). The building was a Benedictine monastery from 1888-1981. The owners have kept the building in great condition, and it honestly feels like you're in a sprawling countryside mansion. They call themselves a boutique hotel, with only 42 beautiful guest rooms in the building. This was ours: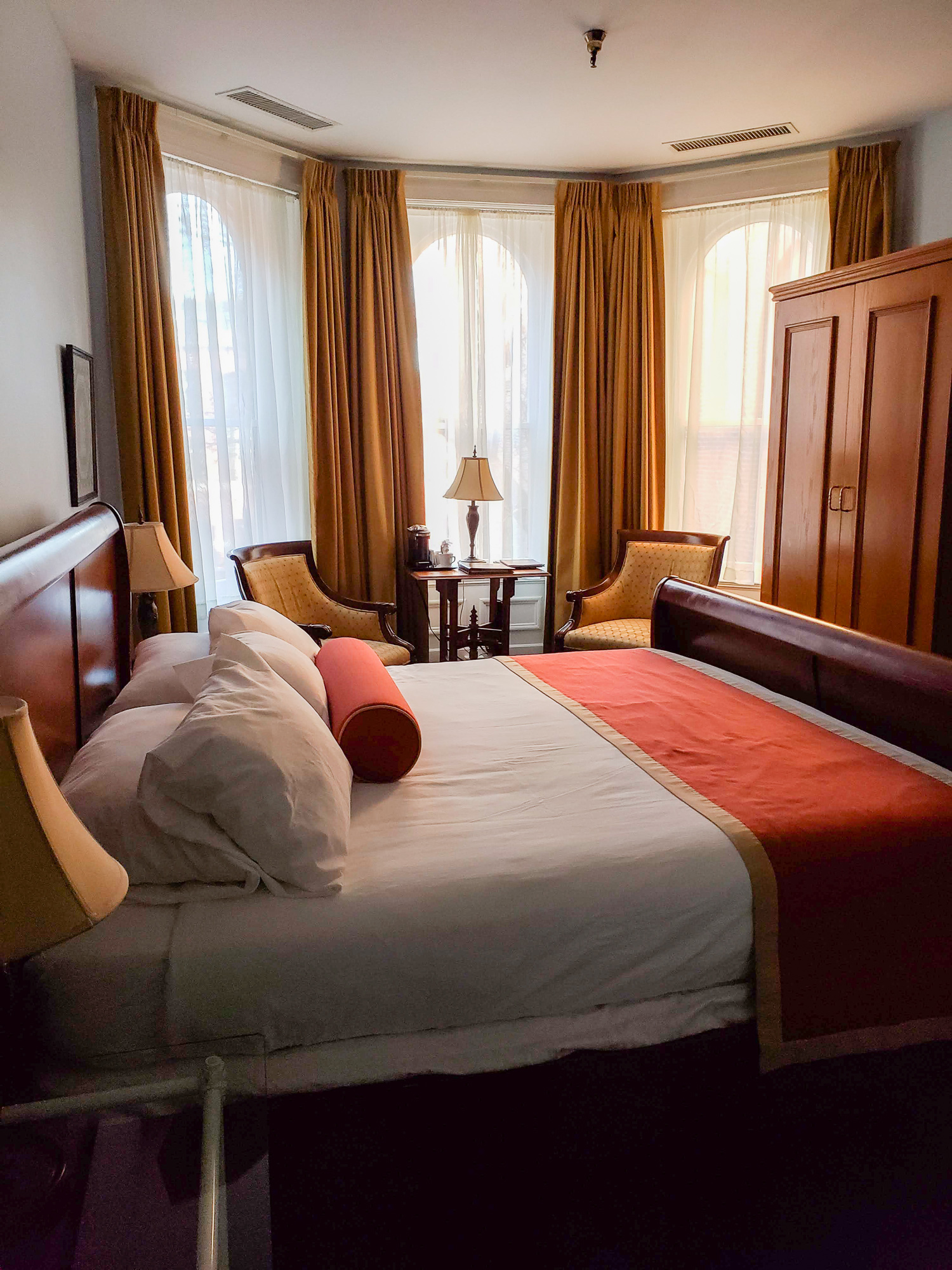 The staff there treated us like we were their friends — which was super cool.
Amenities:
Free Parking - This was the best. There was a little parking lot across the street that was super easy to find. My parking anxiety-ridden heart was happy!

Free Breakfast - The Priory's breakfast was the best breakfast I've ever had! Forget those crappy fake scrambled eggs. They served a German-style breakfast, complete with cut up meats and cheeses, fruit cups, yogurt, toast, cereal, and pastries! Not to mention, the dining room was gorgeous!

Free Wifi - This was convenient because, come on, free wifi. Everyone loves it. If I would've brought my laptop, I would've been able to blog. But . . . honeymoon = no work!

Monk's Bar - The Priory's own bar is adorably small. They store all of their alcohol in a safe original to the building, their bartenders are AMAZING, and the drinks (all of their own making) are fantastic. I tried the Irish Monk and The Cherub's Cup. Both were delicious.

Fitness Center - I only made it down to the fitness center once during our whole stay, but Jeff made it down every morning. It was great for him (and would've been great for me if I'd gotten my butt out of bed).

Shuttle Service - The Priory offers a free shuttle service to their guests. They'll take you anywhere in the surrounding neighborhood + to lots of Pittsburgh's attractions. The night we got there, they didn't have a shuttle driver, so they were covering the charges of an Uber for anyone who still wanted to go out.
They also offer other services like a business center, and the building is smoke-free.
Where to Eat in Pittsburgh, Pennsylvania
We went to some pretty fun restaurants in Pittsburgh. It was hard to choose, and I listed a couple at the bottom that I'd like to go to when we return. We had a lot of fun finding unique restaurants to try out.
Crystal on Penn - Mediterranean Restaurant
Our first night there, we were hungry + wanted to go somewhere fun. I started searching on Google Maps and found Crystal, a little Mediterranean restaurant/bar. I'm a super picky eater, but I said what the heck, I'll try something new. So off we went!
Crystal has a super fun atmosphere. I have a feeling it's one of Pittsburgh's best spots in the summer — especially since it has a digital jukebox! I'd never seen one of those before.
Crystal has a variety of traditional + Mediterranean appetizers/entrees. For some reason, I wimped out and got a burger. So much for being adventurous. But the food was great, from the delicious fries to my awesome burger to the heavenly baklava. Jeff had an "okay" gyro, yummy onion rings, and a Dragon's Milk beer (which he loved).
Arnold's Tea
Arnold's Tea was ADORABLE. Hipsters and bloggers alike will die of happiness the second they walk into this place. They have lots of different flavored smoothies, hot/cold teas, and coffees. It's a dream! And the place is super light and pretty, and the people are friendly. 10/10 would recommend.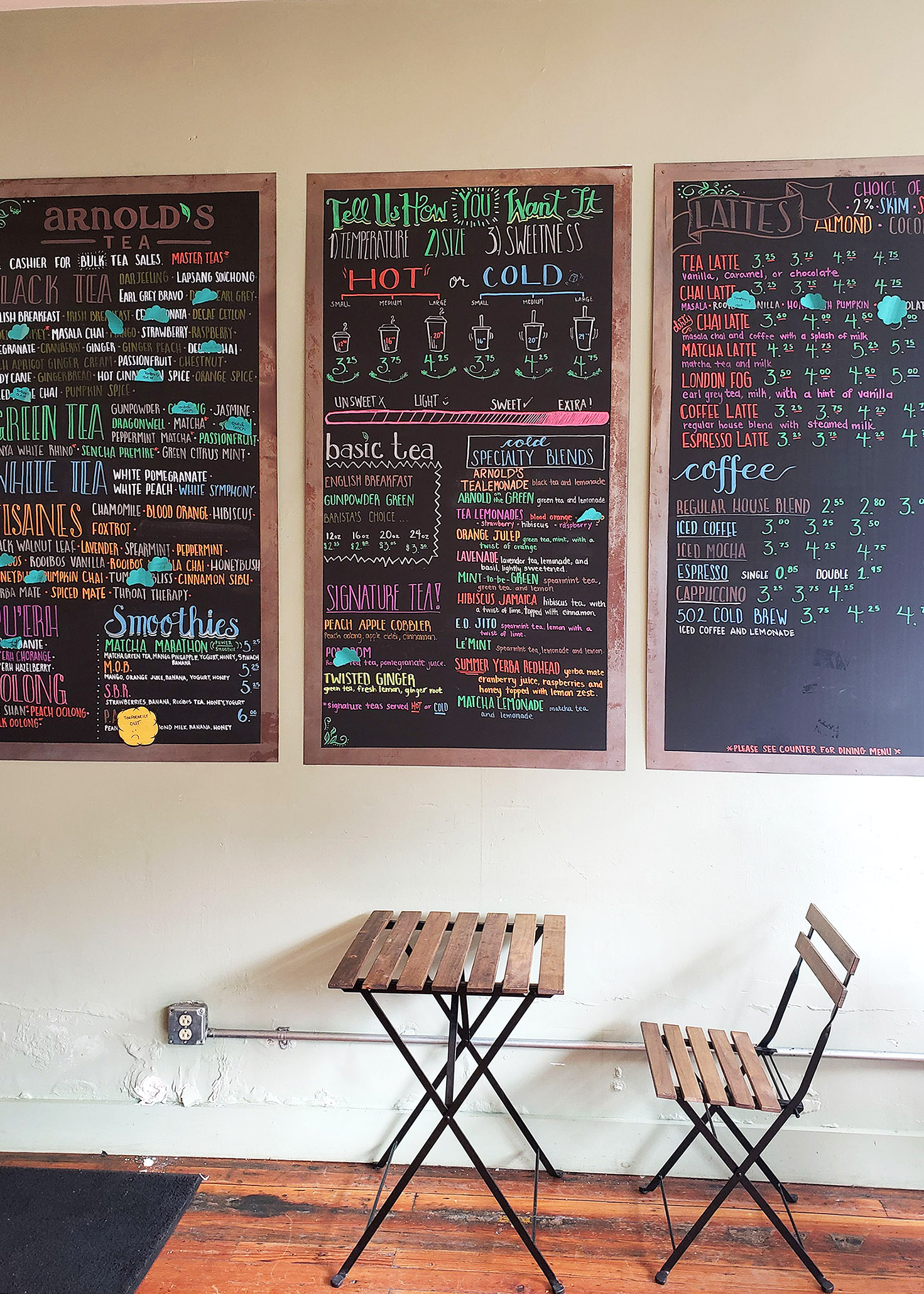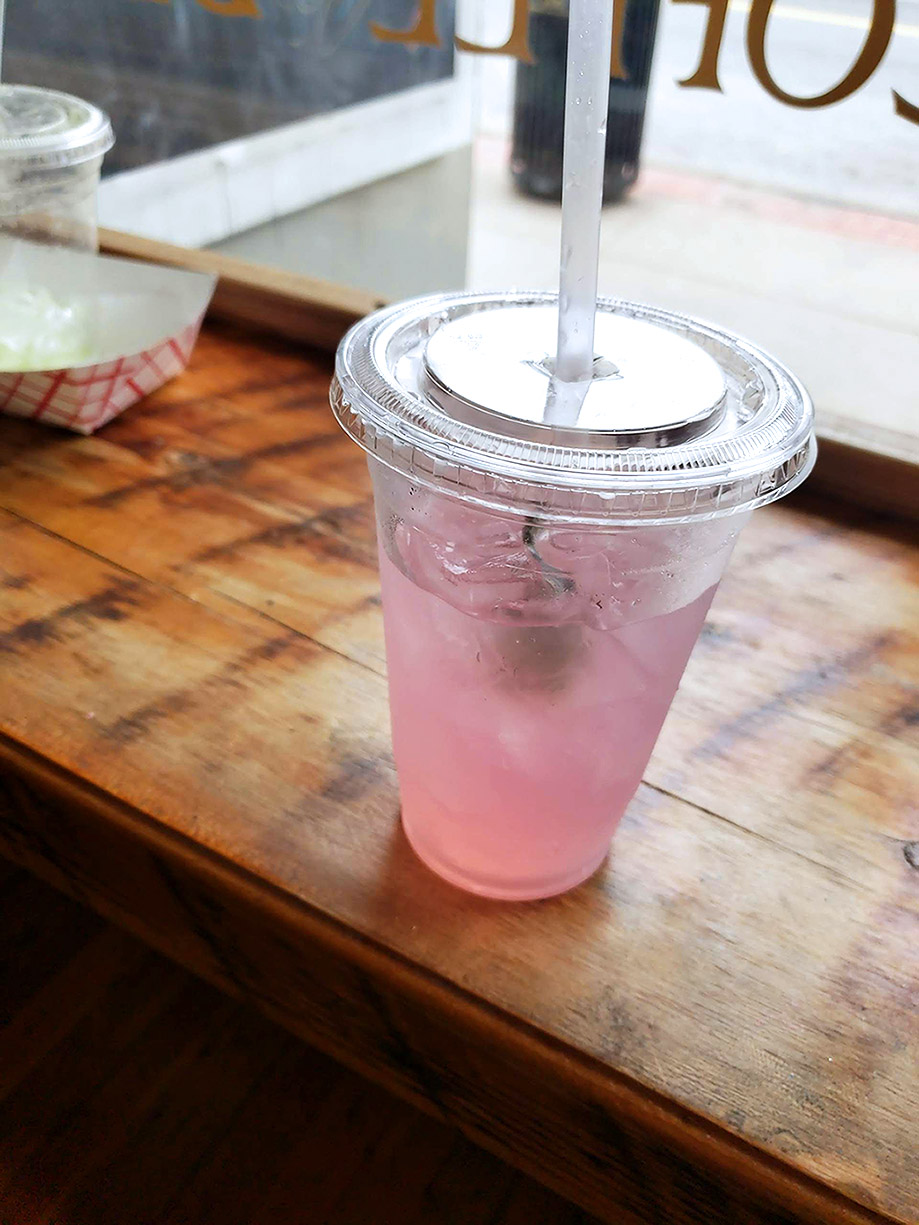 I got a lavenade (lavender tea + lemonade + basil, lightly sweetened), and it was delicious. It was a tiny bit out of my comfort zone, as I've never tasted lavender before. So it was a lovely surprise to find out it tastes just like it smells!
Monk's Bar
This is the Priory's bar. It's in a small room off to the side of the front door. You walk in and the first thing you notice is a walk-in safe full of alcohol. The safe is original to the building and was used by the monks who lived there. Here are the drinks that I tried:
Irish Monk
Bailey's, Frangelico, Jameson - and the bartender just happened to have fresh chocolate shavings from the Priory's bakery, so he added them on top for me!
The Cherub's Cup
Vodka or Gin, St. Germain Elderflower, lemon juice, simple syrup, muddled strawberry, and champagne.
Both of the drinks were super yummy! Although I did ask the bartender to tone down the vodka in the second one. I knew it would be too much for my preference, and she happily obliged!
The two bartenders who served us knew lots about Pittsburgh + the Priory, and it was super fun talking to them.
The Priory Bakery
At the Priory's German-style breakfast, they served pastries from their bakery on E. Ohio Street — and they were delicious. They gave us a coupon, so we walked over on our last day in town before driving home.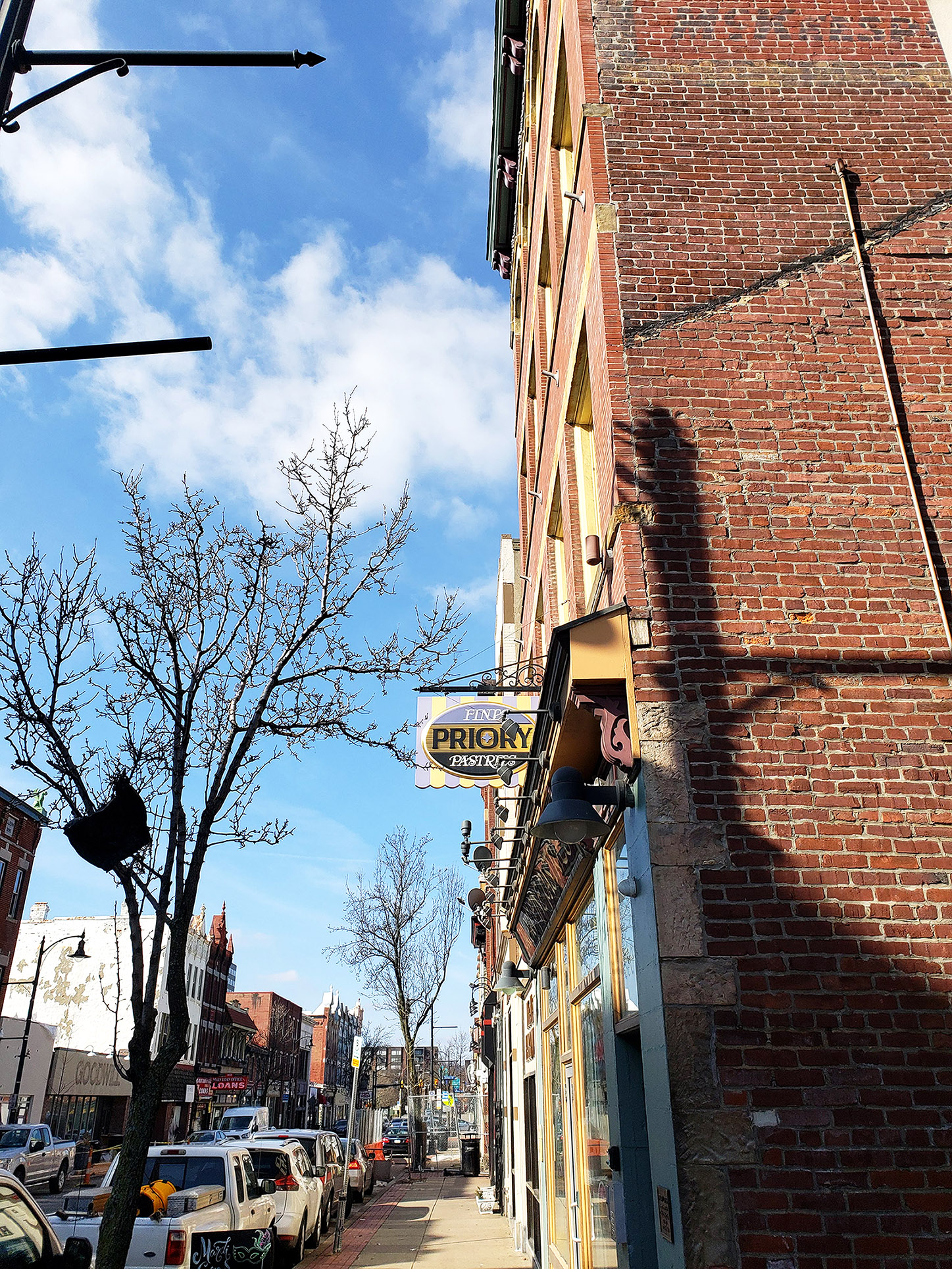 The place was welcoming, cute, and the service was friendly. There were so many options, but I eventually went with a buttercream-filled donut with chocolate frosting on top. Oh my! So good. Alas, I forgot to get a picture.
Other Places that Looked Good
Cafe at the Lofts - a cute cafe within walking distance of the Priory. Their hours are a little weird so we weren't able to make it.

Bistro to Go - this place looked good, but we decided to go to Arnold's Tea instead.
Unique + Fun Things to Do in Pittsburgh, Pennsylvania
We were only in Pittsburgh for three days, and we spent a lot of it relaxing (and sleeping) at the hotel. But we did have some fun adventures exploring Pittsburgh! And the Priory is centrally-located, so getting around wasn't too bad.
Mattress Factory
So . . . if you're a normal person, I don't know if I would recommend the Mattress Factory. If you're an art person, then go for it. I only took one picture in the entire museum because the rest of it creeped me out so badly.
So if the above picture represents your tastes in art, then definitely check this place out. Just beware that the rest of the first building (there are three) is full of burned books, dark mirrored rooms, and . . . weird stuff.
I didn't get it.
We actually skipped out on the other two buildings because I was in such a hurry to get the heck out of there. It's a place of nightmares. Not my thing.
Pittsburgh Aquarium
So after the Mattress Factory wrecked our minds, we decided on the Pittsburgh Aquarium, which didn't disappoint. Neither of us had been to an aquarium since we were little, so seeing all the different kinds of fish, sharks, eels, rays, etc. was really cool.
It was super fun to stare at the same tank for a while. After a minute or two, things would start popping out that you didn't notice before. Like lobsters covering a stone wall, staring at you. That one was slightly terrifying. But it was super cool to watch seahorses and see starfish, etc.
Carnegie Science Museum
This was fun. The museum might be geared toward kids, but I loved playing with all the interactive exhibits. They also had a train town WHICH WAS THE COOLEST EVER.
Ahem.
I love trains.
Walk around Deutschtown
The Priory is in Deutschtown (which is super close to downtown), so walking around and looking at the unique architecture + shops was fun. Arnold's Tea is actually in Deutschtown.
The February weather warmed up to around 50 degrees, making it nice for exploring. We came across this mural while taking a walk one day.
Visit the Government Center - a Record Shop
The Government Center is also in Deutschtown. They were playing music outside, so my interest was immediately piqued. Since Jeff is a rad guitar player (and loves music in general), we stepped inside and sorted through records + CDs for a while.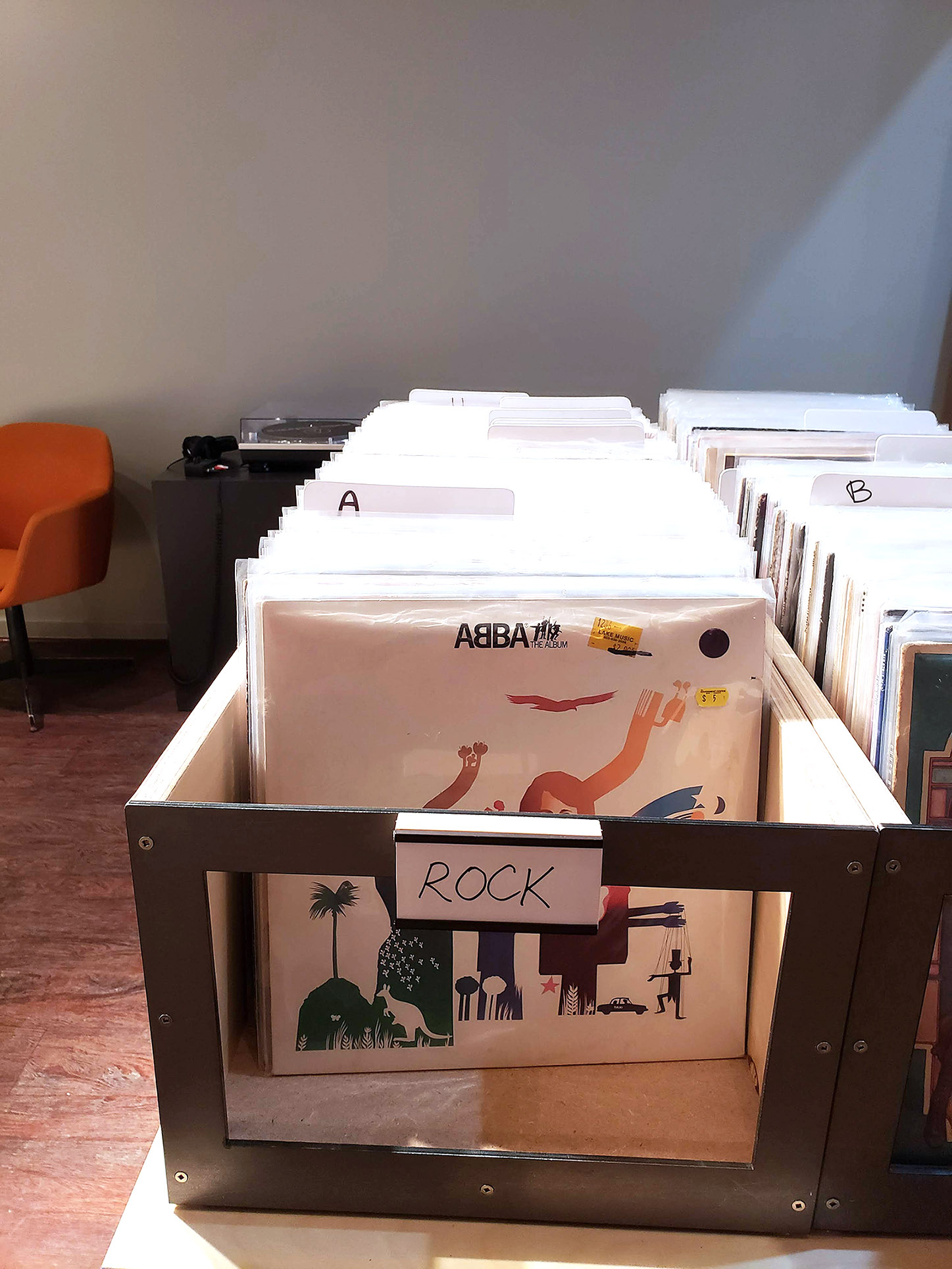 This trip was so. much. fun. It was great to spend so much time with Jeff, especially since all of his attention was on me (and mine was on him). Seeing Pittsburgh was just an added bonus.
What's a city you would love to explore? Let me know in the comments!