I Bought a Weighted Blanket for My Anxiety - Here's Why I'm Never Going Back
I may earn a commission if you purchase through my links. Read more here. I am not a medical/health professional. These are only my opinions, not medical advice.
As someone with crazy-bad anxiety, I've tried a lot of things to get rid of the panic, worry, and stress that almost constantly plague me. And while I've found some things that do the trick, I haven't found something that gets rid of my anxiety as well—or as quickly—as a weighted blanket.
This is about to get super personal, but here goes. You've been warned.
I've had sleep issues/nighttime anxiety problems for a while now. First it was just worrying about what the next day would bring. My brain literally wouldn't shut off. But then it got worse.
Not only was worry plaguing my mind, but something else was happening. I started having these hopeless, terrible thoughts. Like my husband getting into a terrible car accident and dying, or me getting thrown into some body of water and drowning. Mind you, I didn't intentionally come up with these scenarios. They just came, and I couldn't stop them. It made trying to get to sleep a horrible, stress-inducing task.
I was desperate to kick my nighttime anxiety in the butt, and a weighted blanket that would soothe me seemed almost too good to be true. But I was ready to make the investment.
So I bought one.
And holy crap is it awesome.
The weighted blanket I got is 15 pounds, and I think it's the best weighted blanket ever. I fall asleep so much faster with it, and it makes me feel safe. There's something about the weight that's so comforting, and my nighttime anxiety levels are so much lower with this thing.
I got a queen so my husband and I could use it together, but you can get a twin for cheaper (or if you want it just for yourself, haha). Read the description of the weighted blanket to figure out what weight you should get.
Is A Weighted Blanket Worth the Money?
If you're asking this question, I get it. Spending $60+(ish) on one thing sounds like a lot. But remember: this is a one-time investment. And considering how much it's helped me, I'm here to 100% recommend picking one of these things up. Think of it like this:
Your nighttime anxiety levels will be lower.
You'll fall asleep easier.
You'll sleep well.
Why wouldn't you pay under $100 for that?!
Still, I get it. I did some research before buying a weighted blanket, just to make sure it'd be worth it. That's why I've compiled the answers I've found to frequently asked questions about weighted blankets in the rest of this post. So if you're still not sure if a weighted blanket is right for you, keep reading. Or, if you're ready to fall asleep under the cover of one of these glorious blankets, click the button below to view my weighted blanket on Amazon.
How Does a Weighted Blanket Work?
Strangely enough, there's science behind how weighted blankets work. They were originally only used in the special needs community for people with things like autism or ADHD. Weighted blankets are based on deep touch pressure—a type of therapy that applies pressure gently. It increases the levels of serotonin, which apparently people with anxiety (me, and probably you) are low in. So a weighted blanket will help increase serotonin levels in your body, which will help regulate your anxiety, which will help you to sleep better. Yay science!
What It's Like to Sleep with a Weighted Blanket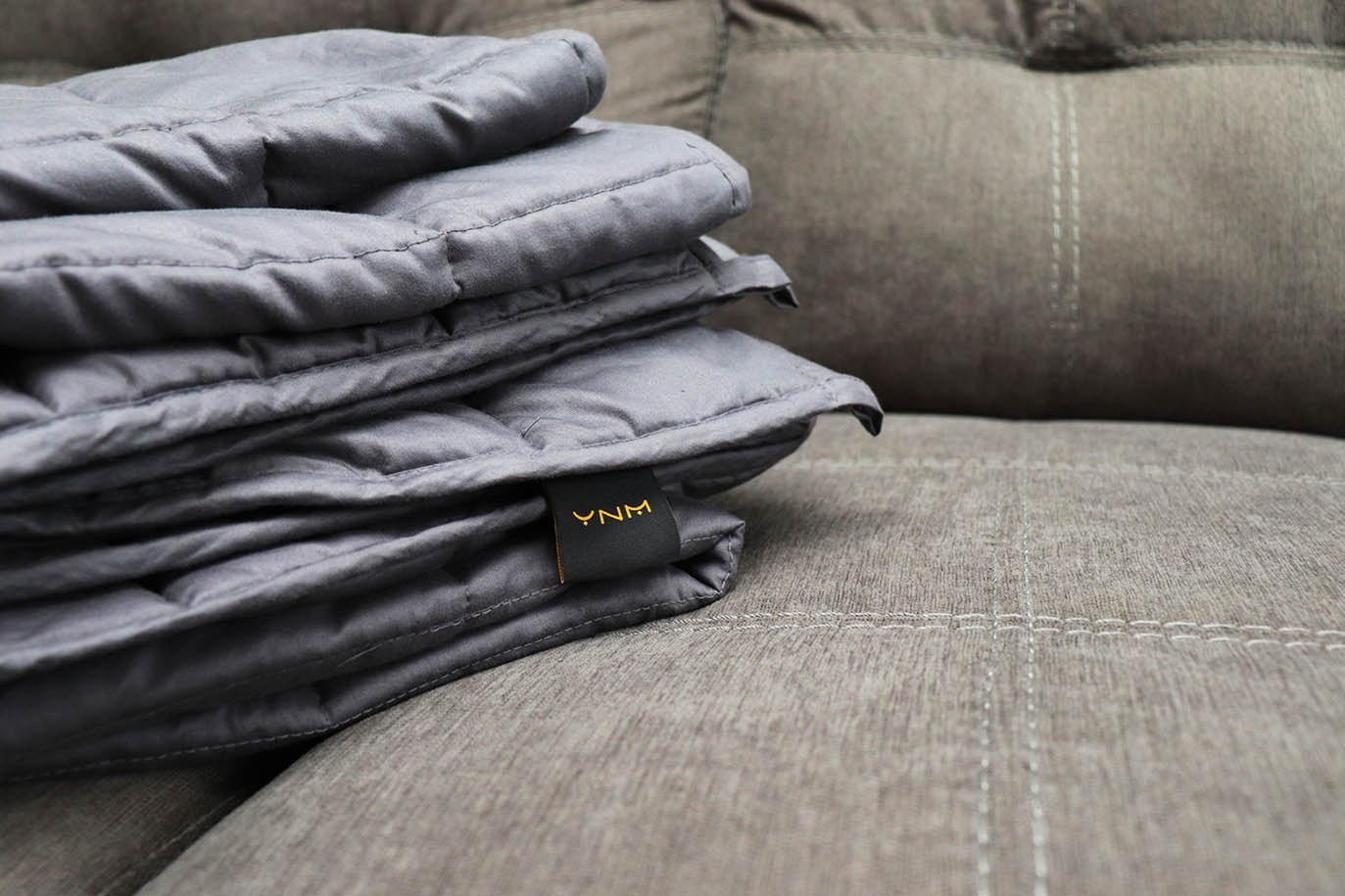 It literally feels like the blanket is giving you a hug, which is super comforting. In my head, I actually call this thing my "anxiety blanket" because it has such a calming effect on me.
I had practically no issues with the weight on me because I've always preferred it that way. I will say that it took some time to get used to moving it around, though. Because I'm used to pulling my blankets up with ease, shifting the weighted blanket was (obviously) more difficult. But it only took me 2-3 nights to get over that.
Are Weighted Blankets Hot?
I haven't had any issues with being too hot when using my weighted blanket. In fact, I still use my comforter over it. I'm always cold though, so that might just be me. My YnM blanket has breathable fabric to help keep you cool as well.
Can You Machine Wash a Weighted Blanket?
Yep! Weighted blankets can be cleaned using the washer in your home, although anything over 12 pounds may cause too much wear and tear on your washing machine. This can be solved by taking it to a laundromat and using a heavy duty machine, or by using a weighted blanket cover. That way, you can slip the cover off whenever it needs washing instead of washing the entire blanket.
Do Weighted Blankets Really Work?
Yep! Using a weighted blanket for anxiety has honestly worked wonders for me, because:
The one I have is a quality weighted blanket, so the weight is distributed evenly.

The hugging effect of the blanket feels like a shield, and it makes me feel safe.

It acts like a calming blanket, which soothes my anxiety.

My weighted blanket usually keeps me from waking up in the middle of the night. Click to tweet.
The thing is legitimately awesome, especially when paired with CBD oil. I chose the YnM weighted blanket for a variety of reasons. But if I'm being perfectly honest, it was mostly for the great price. Weighted blankets can be expensive—especially the Gravity Blanket. But seriously, mine works great, and I wouldn't trade it for any other one. The Gravity Blanket seems to be just like a "brand name" thing. It's cool to have because it's THE popular one, but an inexpensive weighted blanket will do just as well.
My YnM weighted blanket has lots of great features (smaller compartments, adaptable design, breathable fabric), and I'm not the type of girl who NEEDS a brand name. So this weighted blanket suited me just fine.
And there you have it! That's my weighted blanket review. If you have anxiety, I sincerely hope this post helped you. I would super-duper recommend looking into using frankincense essential oil and CBD oil for anxiety as well.
And this is possibly the most important part of my journey of getting rid of anxiety, so I'm not sure why I'm putting it at the end, but: God will conquer your fears. If there's one thing I've learned over the years, it's that the only thing that can 100% truly dissolve my anxiety is trusting in his plan.
Do you use a weighted blanket? Let me know in the comments how it works for you!
And don't forget to pin/share this post if it helped you. I'll love you forever!